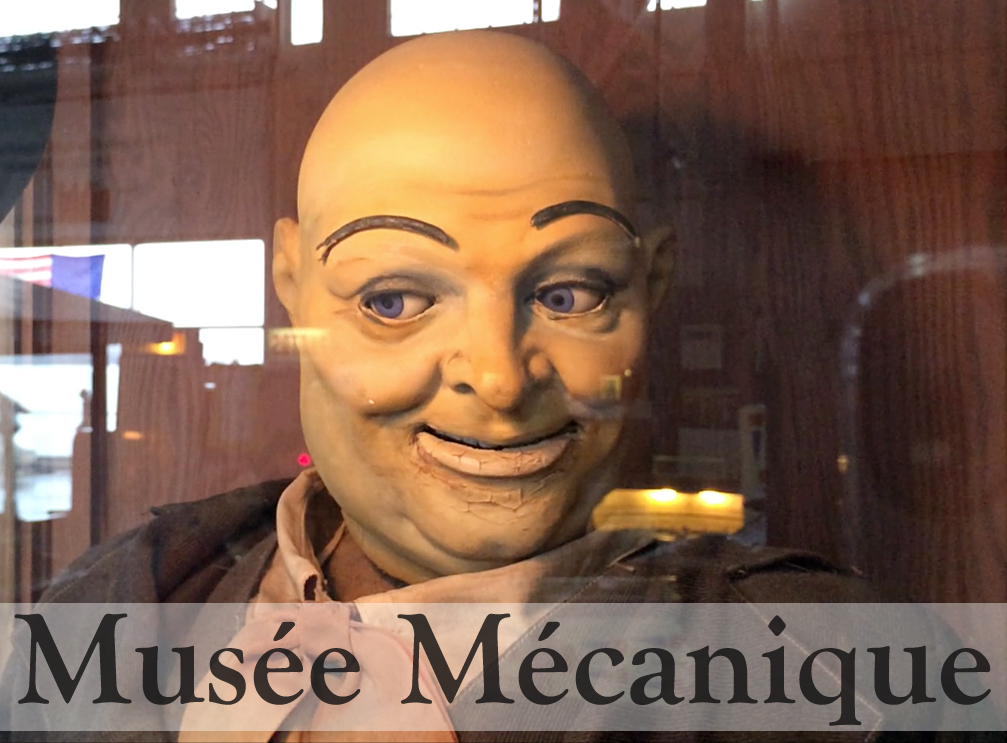 The rain is relentless and our clothing sticks to our travel weary bodies. To our right, grand galleries of outrageous pomp and finery in bronze, gold, and glass stand cheek and jowl with fast food counters, kitsch mongers, and dingy alcoves papered with promises of adventure and fantastic sights at only 39 dollars a head. Across the street and on past another row of shops is the bay and an island with an old prison converted to a tourist attraction.
That's right, we're on Jefferson Street in San Francisco's waterfront, heading towards Fisherman's Wharf – tourist hell.
As with any city, any handful of earth upon which you may find yourself: sift carefully, for their may be gems here. Gems like the Musée Mécanique at the end of Taylor Street on Fisherman's Wharf.
When we were planning this trip, Musée Mécanique was the first place my wife talked about as a possible destination. Me? All I could think about was the great food I'd be chop-sticking over my gnashers in Japantown.
I'm not much of a tourist, really. You can keep your Alcatraz, your Lombard Street, your Golden Gate Bridge, and all other, typical tourist attractions. I've seen them on enough t-shirts, barware, and family snaps to last a lifetime.
Still, Musée Mécanique was something I'd not heard of and my wife remained convinced it could be interesting. I enjoy museums, so visiting a place that had old arcade games sounded like a nice, quick diversion. Little did I know I was about to walk into a house of over 200 fascinations.
Musée Mécanique (mechanical museum), as it turns out, is one of the world's largest, privately owned collections of coin-operated arcade machines.
Now, by "arcade machines," yes: Ms. Pacman is here. You can play Spy Hunter and Raiders of the Lost Ark pinball. You can also play foosball, skee ball and – hot damn, my favorite: air hockey. You can even ride the horsey, if your heart so desires (and you weigh 40 pounds or less) but the term "arcade machines" also includes older diversions. Things like arm wrestling, an antique, metal version of Rock 'Em Sock 'Em Robots, and fortune tellers like the one in the Tom Hanks' film "Big." Then farther back to animated dioramas and peepshows. Drop a coin in the slot and discover what the butler saw or witness a scene from history.
By far, my favorite of the attractions – even above the air hockey! – were these animated dioramas. Glass cases containing tiny dolls or even up to larger than life figures that spring to automated life at the drop of a single coin. How I marveled at the intricate, the odd, and the often unabashedly macabre re-enactments in fabric and plaster, rubber and steel. Demonstrations in mechanical miniature of an entire farm, riding a bucking bronco, various methods of execution, or the soul-damning torture caused by abuses of the flesh.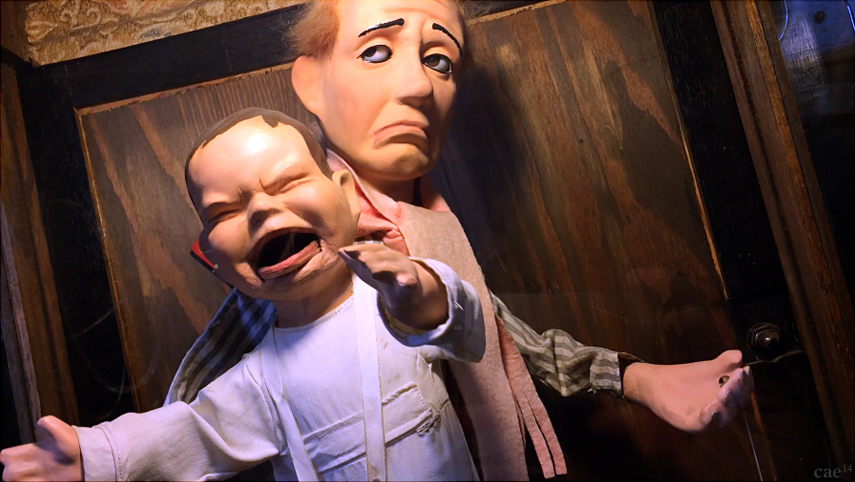 I stepped inside Musée Mécanique expecting, I dunno, maybe some tin-gizmos that made music, and spent the next couple of hours in sheer fascination, pumping quarters into machines to see what – if anything – they might do. The four of us – two kids, two adults – were here for two hours, totally entertained, and for under $40. Beat that, Disney Land.
So check 'em out – either in person or visit the website. The latter has an informative and entertaining video on its homepage that is great fun to watch.
Musée Mécanique
Pier 45 at the end of Taylor Street
Fisherman's Wharf
San Francisco, CA 94133
www.museemecaniquesf.com/
Speaking of videos, I'm enough of the herd to own a cell phone with video capabilities so, of course, I tried to capture some of my favorite machines at Musée Mécanique and want to share them with you, here.
It feels a bit like stealing, to record and then freely publish the attractions of a place I encourage you to visit. It seems counter-productive – why go if you've seen it already? But my documentation is poor and minimal and the videos I took barely scratch the surface of the delights Musée Mécanique offers. So go ahead and peep. They quarters are on me …