Moebius Models' "Mars Attacks Martian Warrior" plastic model kit, based on the classic Topps, horror/sci-fi trading card series, stands around 13′ when completed, and offers a fun build with plenty of opportunities for improvisation.
Moebius Models' Mars Attacks Martian Warrior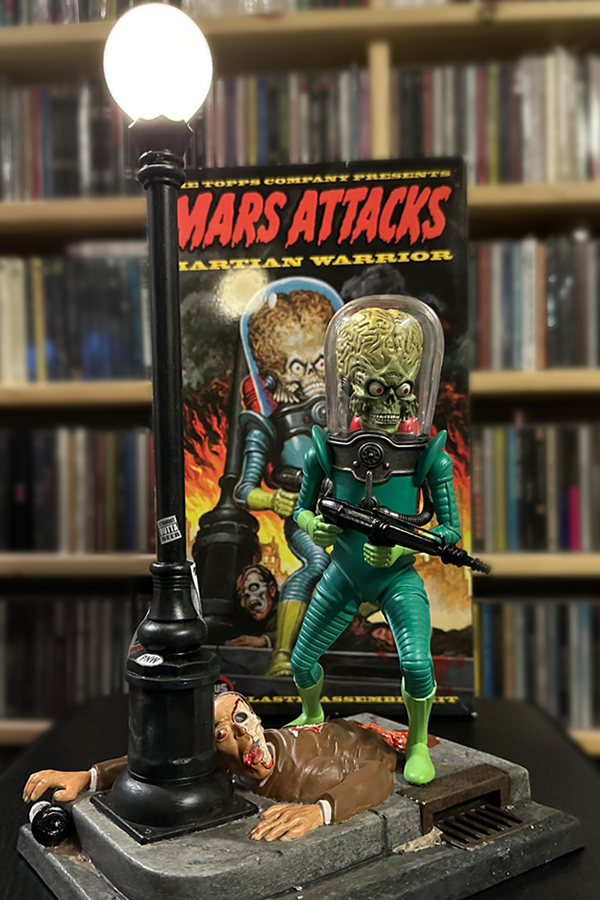 I instinctively knew two things the minute I first saw Moebius Models' "Mars Attacks Martian Warrior" plastic model kit: I was gonna get it and I was gonna make that lamp work.
Luckily, my local hobby shop carries all manner of niftiness and I was able to walk out with both the kit and a lighting solution in one visit. Oh, how I love one stop shopping with no shipping cost or waiting around for delivery. Support your local retailers, folks.
I always like to add some personal touches to the kits I build but didn't have too many preconceived notions for this one beyond lighting the lamp. I've been a Mars Attacks fan for years and, though I do like the film, I decided right off that I would use the cards, no the movie for my inspiration. Looking back through the card set, I was reminded of how little of the Martian warriors we actually see. There's enough to work with, to be sure, but less than you might imagine.
For further inspiration, I also like peruse the internet to see what other's have done before I get started. To that end, I spent the most time studying Tom Hering's version on cultTvman.com. It's beautifully done and just a notch or two above my skill level, to say the least.
I'm not sure why I decided the Martian weapon would char some areas of bone but I did. I also decided to leave the bones lightly pink, and wet looking as if the tissue was *just* there. Disgusting, I know – but this is Mars Attacks we're talking about, here!
Lighting the Lamp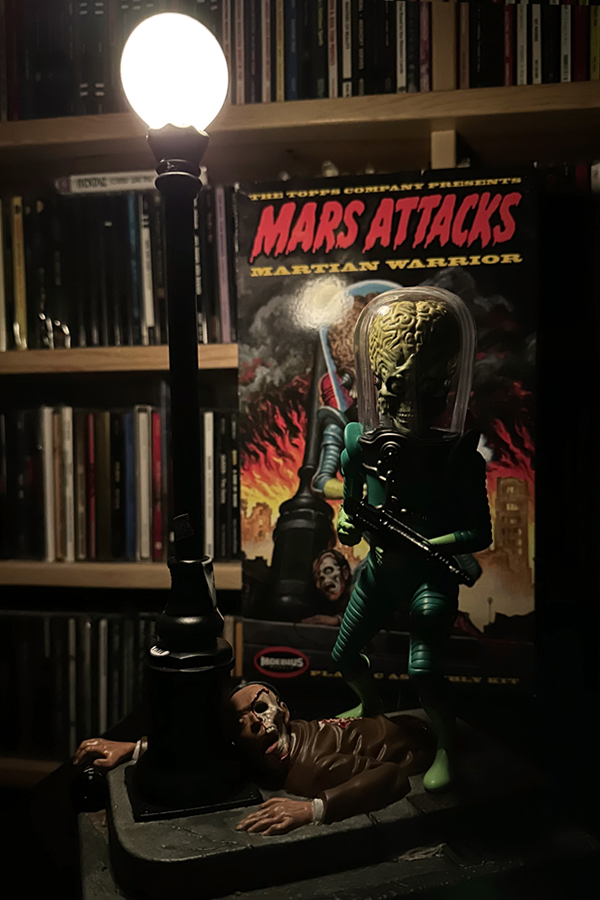 I was so excited about adding a light to this kit that I sawed the globe from the top of the lamp almost right out of the box. Something I wouldn't have done, were it not for the ugly seam running through its vertical center. Instead, I replaced it with the clear glass globe filed off the base of a wax warmer bulb. A carefully shaped bead of J-B Weld WaterWeld around the new globe's opening, helps to secure it in the lamp post socket.
For a light source, I am using a Just Plug, warm white, LED stick on light. The LED had to be sanded down some before it would fit through the center of the lamp's aluminum pole. I also drilled out the other lamp parts and the base, just in case I ever have to replace the bulb.
I considered leaving the lamp globe transparent but the LED just looked goofy in there – noting like a traditional incandescent bulb. Also, the clear glass did nothing to diffuse the light. Consequently, I decided to paint it white. I'm glad I did, too. It looks great. A fantastically creepy night light.
Other Jazz Moves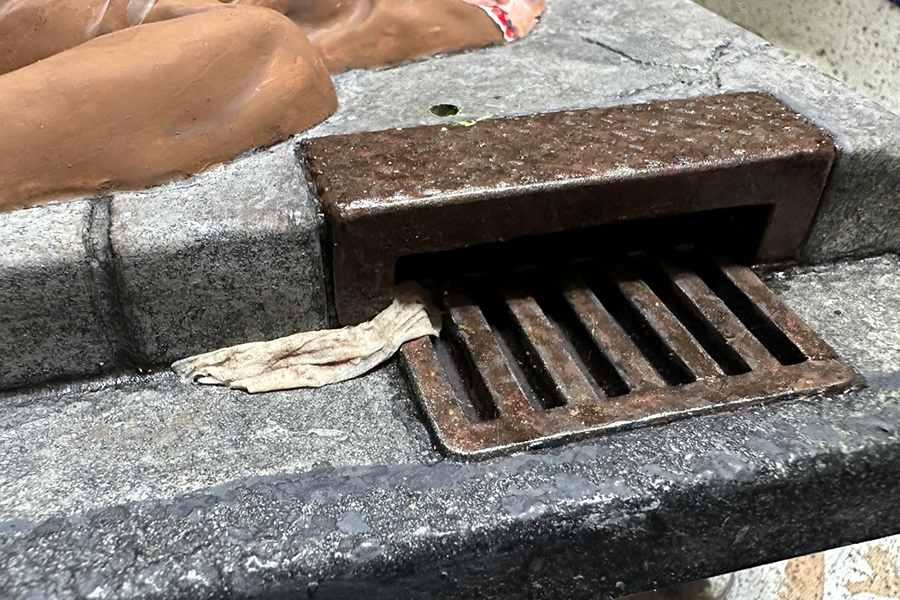 Chunks of modeling putty and tiny scraps of paper became the grime and funk for my sidewalk and gutter. I'm most proud of that rag going down the sewer …
Speaking of the sewer, adding a face to the curb box over the grate was inspired by Tom Herring's version of the kit. I couldn't unsee the change after viewing it, making my gutter look naked. Luckily, adding the face was an easy process that came out looking great, if I do say so myself.
I modernized the lamp post by sticking a bunch of dumb crap to it. You know: some stickers, a flier or two, that sort of thing. I put a few together in Photoshop, printed them out, then stuck 'em to the lamp with Mod Podge. Scale strips of celo tape were added for effect.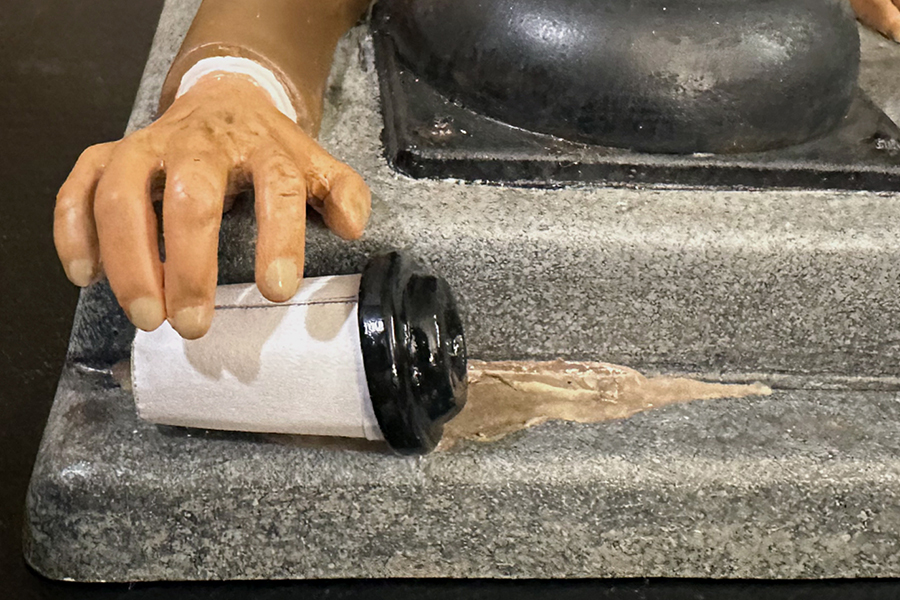 I decided my victim needed a half-drunk cup of coffee for his outstretched hand. I was going buy a miniature cup off of Etsy, at first. Then my wife pointed out a video (Easy DIY Miniatures) detailing how I could make my own paper coffee cup. Embarrassing but soooo much better.
The process was a bit fiddly but the video's provided template really helped. For a lid, I sculpted an appropriately sized button into shape with sandpaper, files, and more JB-Weld WaterWeld. Top it off with a coat of black paint and – voila.
I repositioned the martian's head to be more in line with his gun, making him that much more menacing.
Moebius Models' Mars Attacks Martian Warrior kit was lot of fun to put together. If you're considering picking one up, I highly recommend it!