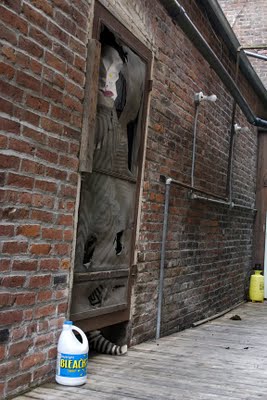 Medicom RAH "Dada"
I've had this shot (hell, all this week's outside shots) for a long time and have "published" a few of them before, sans toys of course.
This one has always kind of freaked me out. That nailed shut door with the tattered screen – and what's with that bottle of bleach?
All it needed was a Dada to complete the creepiness.
Getting him behind the screen was a bit of a job. The screen itself was no problem but getting the right angle was a major hassle.
I shot three variations of the pose and angle before getting it right, having to mask and insert the shots each time before determining that it was back to the ol' drawing board once again.
The final pic features four composite shots of Dada at different light levels, plus I had to break his left foot off mid shin (photographically speaking of course) to make it look "right." Another way of saying I *still* didn't have the angle right on this last shot but decided to make it fit, anyway.
Lots of creative photoshop shadowing, too, as usual, as well as a warming filter to bring Dada into the alley more completely.
The lighting on that protruding toe was a pain in the butt; a final harassment that I must've tweaked and re-tweaked a dozen or more times.
Thanks to my daughter's sharp eye for letting me know when things were flat or otherwise off. Without her the effect would not be as good.