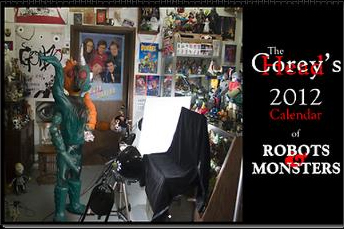 That's right, get your shoes and socks on, people: it's time once again for me to approach on bended knee (you try that – it'll ruin your pants, I tell you … ) and beg, with great, big, brown puppy-dog eyes, for you to consider, with an appreciation approaching worshipfulness, my 6th and final, kinda-sorta annual, calendar offering.
This year, like last, the danged thing is chock full of inexcusable photoshoppery and obscure plastic and metal toys designed by the wackiest of Japanese toy scientists (no, the scientists aren't toys, they're, waitaminute, let me try that again … )
14 whole, 17″x11″, full-color pages, printed on actual paper (!), representing all the dull crap you have to do and all the days you wish you could spend home, under a warm blankey, with a good book or maybe someone who is delightfully naked (hey, we can dream, can't we?) as your miserable, pointless life dribbles away like the last of the warm bathwater down a drain that just wont seal properly.
Yes, it's just that exciting! – and it can be yours for a sawbuck.
Act now! http://www.cafepress.com/coreyshead.581794475