It is with a heavy heart that I write of the passing of one of my dearest friends, some would call us family: Ralph Edwards.

When I first met Ralph, it was 2005 and he was just a kitten, adopted with his sister, Mrphy, from the animal shelter in Port Townsend, WA. My then-wife told me that she picked him out of all the others because, when he was brought out for inspection, he stalked over and pounced on a spot on the floor, instantly endearing him to both she and our daughter.
Both cats turned out to be quite remarkable in their own way but I and Ralph, who was offish to most, developed a deep bond from almost the very start.
Never overly social or sentimental, Ralph enjoyed sitting near people he liked … but just out of reach. I think I'd known him 5 years before he deigned to sit in my lap, a practice he was never really all that comfortable with.
Shy and also more than a bit of a scaredy cat, Ralph preferred hours alone under a bed to a house full of guests and really knew how to keep those closest to him at arms-length. Despite this, he also gave GREAT hugs and was often really just a big softie out for pets.
While it might have taken a lot of time to win Ralph's trust, once you had it, he was a quiet and easy going companion. He enjoyed the taste of beer residue, loved butt-pets, hunting, and possessed incredibly soft fur. "Soft as a bunny," marveled a young veterinary assistant. Oh, how we'll miss stroking that fur and finding it in our food.
Ralph had a lot of odd habits and behaviors. He once threw a grape at me (albeit incidentally) and seemed to enjoy styling doll hair. He also loved water so much he'd accost you as you got out of the shower. I'll never forget the feel of his rough little tongue as he licked the water from my leg hair. He also loved sword-swallowing my wife's longer hair while it was still wet from a shower. The hair owners were often less enthused.
Ralph had many monikers and titles: Rude Ralph, Ralphie, Goose, Proob, Ralph the Wonder Lump, Ralfazz, and Raluph, to name just a few. He and his sister, Mrphy, were also the original Turkey-Purse Twins.
Ralph had a long and seemingly happy life, passing away peacefully at home on the morning of December 3rd, 2021, at the venerable age of 16. That's 80 in human years*. While his earliest years were spent confined indoors, the last ten saw him outside almost as much as in.
He loved hunting in the long grass and licking rain from leaves and puddles. He enjoyed scenting summer breezes and, in summer, could often as not be found asleep on a deck chair.
Letting him outdoors in the country could be nerve wracking. I always worried he'd be killed by another predator but he always returned. In fact, one of the cool things about Ralph is that he not only knew his name but would also respond to my whistle for him. Many a late evening's fears could be dispelled with a simple whistle: there he is!
Some of my very favorite memories of him are the many times he, catching sight of me, would dash across the yard to me of his own accord, tail up, seemingly as eager for my company as I was for his. Oh the hugs, that stealth purr – oh, Ralphie, how you will be missed!
Ralph was preceded in death by his sister, Mrphy, another remarkable and much missed character.
The family requests those who wish to express sympathy to consider giving some extra love to their own cherished and fuzzy friends.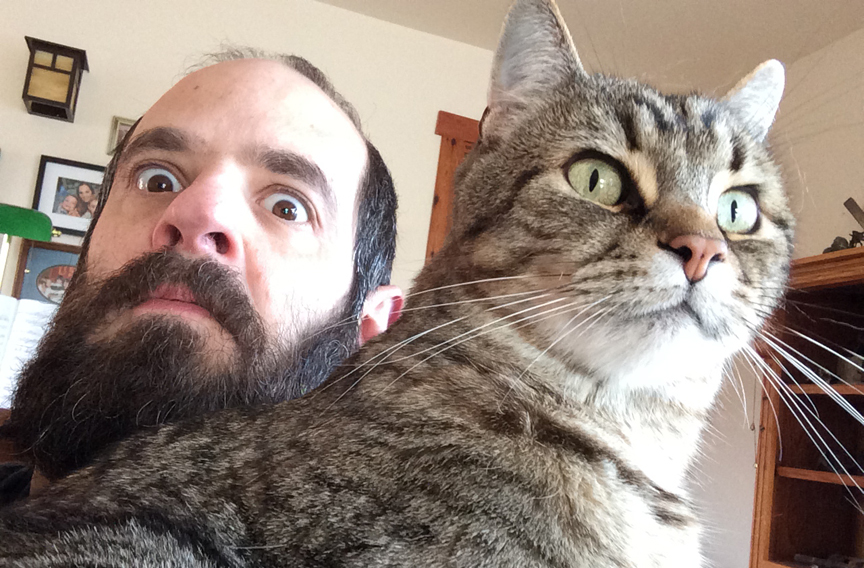 Oh Ralphie, I really wish there'd
been more life I could give ya
But, sad as it is,
I'm glad that I outlived ya
Your burial of me would not
have turned out well
and the house and yard
would have soon gone to hell
cae
cae 2021/12/03
*According to trusted sources, the first year of a cat's life is equal to approximately 15 human years. The second year of a cat's life is equal to an additional nine years. After the second year of a cat's life, each additional year is equal to about four human years.