(part of a series on the advertising character toys of German shoe maker Salamander AG)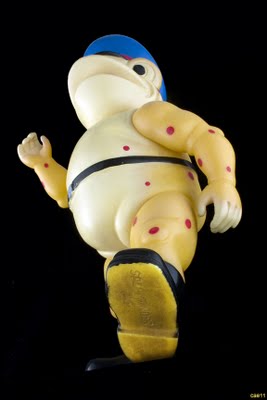 Unkerich shows off his maker's mark
Meet Unkerich, the yellow-bellied toad and shoe shiller for German shoe company Salamander AG.
Part of a cast of six characters introduced in 1937, ostensibly to entertain the children of fussy, adult shoe shoppers, Unkerich is said to be the "strong man" of the group as well as a gastronome and, if Wikipedia can be trusted, also a bit of a maladroit.
As a collector of toys and advertising characters, especially large vinyl ones like Unkerich here, who stands approximately 11 inches from his appropriately bedecked toes to the tip of his jaunty blue cap, I was thrilled when I was awakened to this line via another toy-collecting nutter.
Said vicious enabler first sold me Lurchi, a fire salamander and the main character of the series, then produced three others from the series, squealing: "gotta catch 'em all!" (just kidding … sort of).
In any case, watch this space for further images as I catalog those I own and, hopefully, the last, elusive two – Piping the dwarf and Hopps the frog … gads, how did it come to this?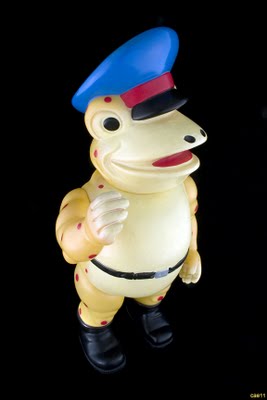 "You behind the grandstands – stand still, laddie!"
Mmmmm – fatback.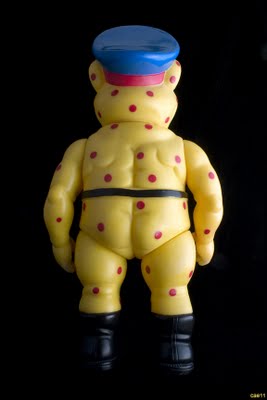 Okay, uh … who sculpted this and what were his off-hour hobbies?
Erm … nevermind.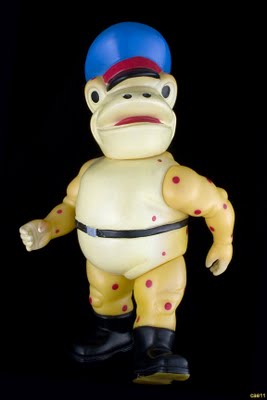 Jolly!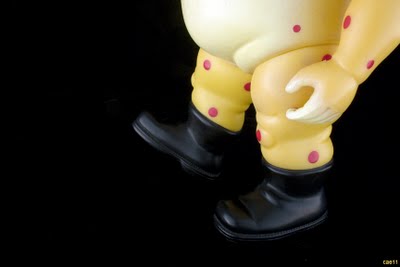 "Aufmerksamkeit! Kaufen sie einige schuhes! Stampfen einige schädel! Schnell, schnell!"