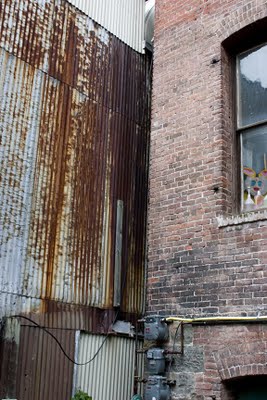 Bandai "Hanejiro"
This was a very simple set-up, as I'm sure you can imagine: A basic head-on with lots off diffuse light on my subject, then a simple two-part layer of the wall and a slight mask of the window to insert the toy.
So simple I almost felt like I was cheating.
For a final effect, I cut out a large section of the top window, which I applied to Hanejiro via a clipping mask, then brought said layer's opacity down until the toy looked like it was behind the window.
A little bit of stenciling to include my sig and: voila.
I may like this shot best of the three I did this weekend even thought it was so danged easy: the unexpected, goofy charm of Hanejiro's face up in the window … it perfectly embodies my attitude and aim when making these ridiculous pics …