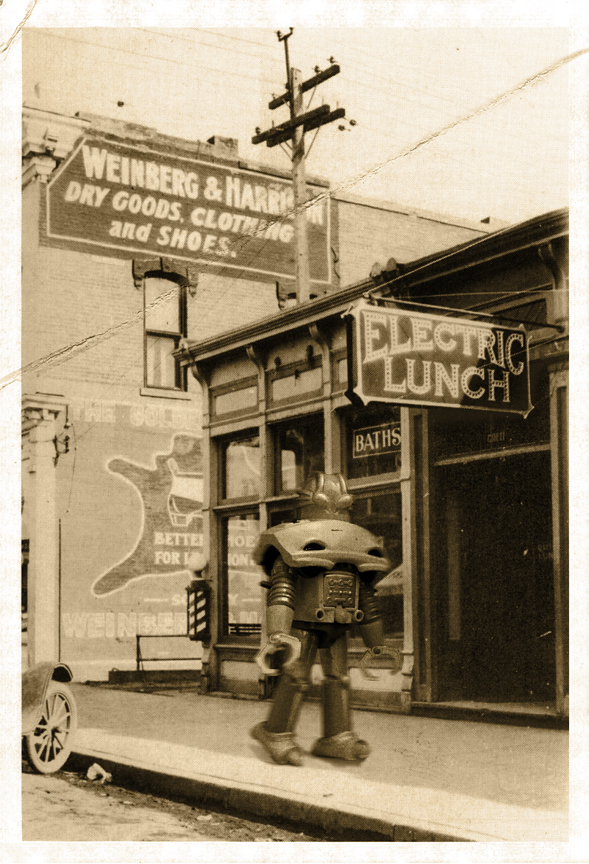 Bullmark Blazer diecast
They said he was from Japan and that accounted for his funny accent but it was clear to me he weren't no Japaner. They said his metal body was the result of wounds he'd received in a war or some such but I never believed that, not for one minute. Who ever heard of such a thing; a metal body?
He wasn't a this earth, I tell you, not even this time, maybe. Sell my mother if it aint true.
What kind of a name is "Brayza," anyway? It  aint Japanese, that's for sure. If he was a real Japaner they would'na never let him open up that restaurant a his, never woulda let him sign the lease. Oh, no, he wasn't from here, that's clear as the nose on m'face!
That crawly voice a his! All raspy and metallic like a giant insect with a spring, scrapin' up the insides of a tin box. And him always tryna talk to motorcars and machines and the like as much as to people. You call that normal?
I tell you, that restaurant a his was a waitin' place for his unholy friends! Why else would he a-called it the "Electric Lunch?" And the food! Good god almighty, who'd a-thunk a-such stuff? Green slimy weeds you never heard of all mashed up with fat, wormy noodles and stinkin', sticky sauces with gaggy, fishy meat he got from who the hell knows where – it was enough to make you sick. Some claimed t'like it, if you you can believe that. He actually had reg'lars but I never trusted any that'd dine in there more than once.
He just weren't cookin' fer humans. Nossiree.
I don't know as many people know this but he'd sit in there at nights sometimes, after hours and back in the dark, all kinda glowin' and a-hummin' and a-bip-boop-beepin' along by himself. Just bidin' his time, bidin' his time. War wounds my puckered butt …
I tried to tell people, tried to warn 'em, but they jus' laugh' me off even though not a-one of 'em felt too sure around him themselves, if you pressed 'em on it. Why the hair on yer neck would go up just from his passin' you on the street, sometimes when you weren't even lookin' to know he was there. Him and his wheezy clank, clank, clank. There weren't a dog in town who would stand him without barkin' and growlin' without end, and he *never* went t'church. Not once.
Well, one day the Electric Lunch just didn't open up. It never did again 'til the bank took it and the works. What I would'n a-paid t'poke around back there in his dinky little room but they weren't brookin' no nosin' around. No sir, it was all business and the next thing you know it's a shop durn fulla gew gaws and what-nots fer gussied-up dudes and little, frilly girls, run by that ol' Jew fellah, whatshisname. Not a bad sort for all that, to tell the truth.
Anyway, some say ol' Brayza got tied up in shady dealin's and hadda take it on the lam. Others like to joke that we'll find him rusting away in the woods some day, or that he made a durn-fool attempt at swimmin', him with all that metal on 'im, an' he's at the bottom a some lake somewhere but not me, no sir, not me. An' you can see by my hand a-pointin' where I knowed he gone: up, an' I don't mean t'his jus' rewards.
I look up nights, when it's cool and clear, and I wonder when that sumbitch is gonna come back, come back here with his danged army when we're all fast asleep. You mark my words: watch the damn sky!