(part of a series on the advertising character toys of German shoe maker Salamander AG)

Igelmann the Hedgehog.
Igelmann the Hedgehog is the third in a series of vinyl toys I've been profiling from German shoe company, Salamander AG.
Igelmann – is there any more inauspicious of a name? It even seems short a letter: for weeks I've misread it as "Ingelmann." Having now realized it lacks the letter "n" that my eyes first imagined, my onomatopoeic mind now envisions Igelmann as a rather squirmy, wiggly character … but no matter.
Igelmann, if Wikipedia can be trusted, while as visually anthropomorphic as the rest of the Salamander AG shoe selling crew (see the two previous posts on the series: Lurchi and Unkerich), is apparently one of the few to retain some of his real-world, animal characteristics in that he can be a bit of a prick at times … physically, that is. Otherwise he is said to be depicted as laid back and down to earth.
Fascinating, aint it?
In my fact checking on Lurchi and his friends, I've run across a few sites that open a wider window to this world of German shoe mongering, including Lurchi's own site, the site of the artist responsible for sketching out the current adventures of Lurchi and his friends, and even Lurchi's Facebook page (okay, okay – so that last doesn't appear quite official … or even relevant).
As to the toy, Igelmann's vinyl representation is somewhat lackluster in comparison to the those previously profiled.
For one thing, he's shorter in stature, standing only 10-ish inches tall. For another, instead of articulated legs, he is a solid hunk of vinyl from the shoulders down.
Despite this, he retains charm: from his maniacal, cockeyed stare to his lovely painted nails, Igelmann seems ready to cuddle and snuggle you for hours on end, no matter how loudly you scream, no matter how much you struggle to get away.
Let me love you. Now!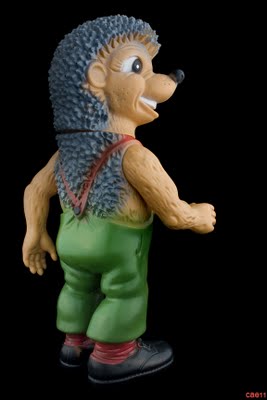 Just boppin' along.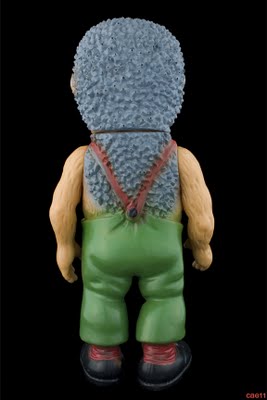 Igelmann will be a hit with the ladies on the
beach this summer: they can comb his back.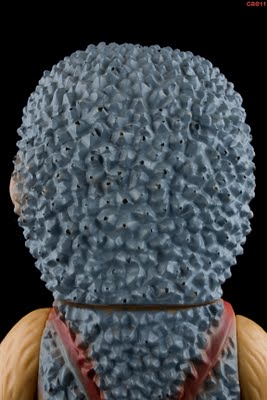 Ouch! Static in the mold? Wimpy centrifuge?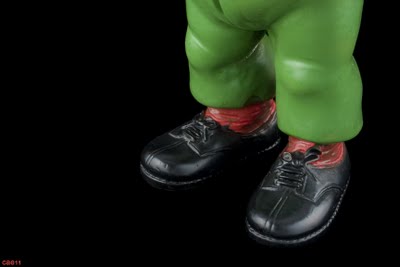 Igelmann's so dapper, shirtless in his suspenders and well-buffed footwear.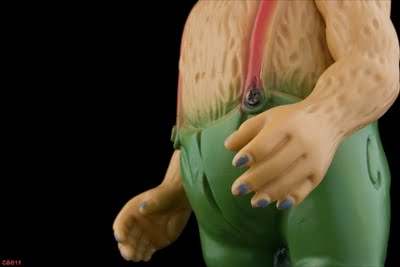 Ut! Looks like it's time to re-visit the salon for another manicure.
"Lassen sie uns gehen verkauf einige schuhe und im abfall dann herum wurzeln!"