(this post is part of an aborted 1 year experiment in material abstinence I called The Necessary Year)
I'm feeling optimistic but also a bit nervous. Thinking about doing something is one thing, committing to it publicly is another. This reminds me of when I told my daughter I would quit smoking, right then: well, you're committed now! Here's to hoping this goes off as smoothly as that did.
As a kind of "last supper" I walked down the hill last night and picked up a bottle of Sheaf stout and some Toll House ice cream sandwiches. I drank the beer with supper (so good and creamy!) but became so embroiled in getting this blog up that I forgot about dessert! I guess I can save them for later – unless my daughter beats me to them.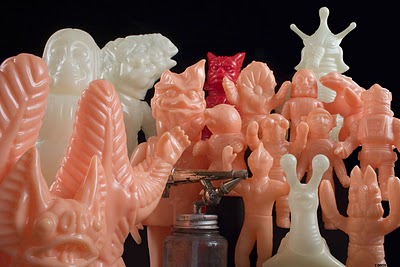 I've already discovered something that I will now have to wait a year to buy and I'm kind of pissed off that I forgot to buy it before committing to this: VColor, vinyl paints! (www.kaiju-taro.com/)
Vcolor is a special paint designed for use on vinyl. Typical paints will not cure on a vinyl surface, you have to use something like Vcolor. Unfortunately, the types of paint that will adhere to vinyl are … somewhat toxic, thus harder to come by in the US.
As an ex-bronze patineur, I have experience working with airborne, industrial toxins and, having collected Japanese vinyl toys for a long while now, it recently occurred to me that it might be a lot of fun to try my hand at painting a few.
With just that goal in mind, I collected this small batch of unpainted, M-1 Gou (www.m1go.com/) vinyls around the beginning of this year, but had been holding off on buying the paints until later. Now I'll have to wait a lot longer than I intended -rats!
Here's to hoping Kaiju Taro (or someone) still has the paints available next year!
(PS I will work for barter and/or accept gifts, so, if you happen to have some Vcolor paints lying about … )