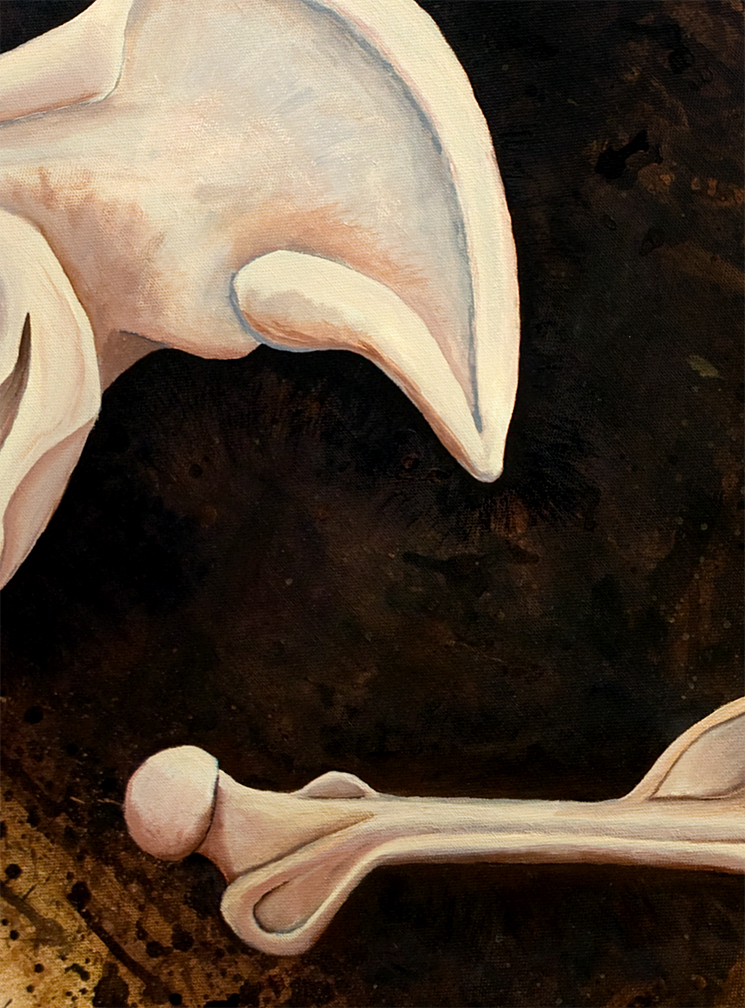 detail of unfinished piece, acrylic on canvas 3′ x 2′
I've never really indulged my painting urge. I yearn off and on for the capacity and thus, occasionally dabble but it remains one of those things least often attended to in my panoply of petty distractions. Maybe four short, concentrated periods prior to this one. As I've mentioned too many times before, I grew up feeling incapable of art and something about painting terrifies me.
As you may imagine, facility with paints, like drawing and so many, many other things, tends not to bloom well, if at all, with mere dabbling. Consequently, my skills in this area are limited at best (as of this writing, no fatalities have been recorded). That being said, I enjoy the mysteries that painting presents me with and often view the practice as a set of tools for obscuring mistakes.
My initial painting expeditions were with water colors. Outside of splatters and various experiments with extremes of temperature, I employed the paint more as one might acrylic and have, thus, moved in the latter's direction. My preference is to mash them about on stretched canvas rather than paper or board and on a plane of larger rather than smaller size, despite the prevalence of miniature, painted works to my name. It's a matter of economy, I assure you.
The canvas for Inorganic #1 is the largest I've ever had the pleasure of violating: 3′ x 2′: vast enough for numerous surreptitious burials. I picked it up for only $8 because it was and remains warped. Perfect.
A nearly three year old, long dormant, half-finished piece, Inorganic #1 represents the effects of Photoshop and Illustrator upon my understanding of light and was begun specifically to test that which I feel I have gleaned from years of digital disingenuousness.
The painting remains in process. I only recently discovered that it is meant to be viewed at a landscape, rather than portrait orientation. Isn't that interesting? I never meant it to be so. It is my hope to anchor it down with more chroma before the poles shift on me once again; I'm not that sure of my footing.
I am aware that I display no discernible, solid talent, neither in full flower or still a-borning, nor do I attempt to imbue my creations here with any value beyond that which I receive in birthing them.
That's enough.