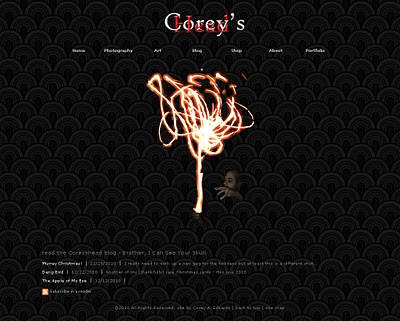 Woefully in need of an update, there has been a beta version of my website for a couple of years, now; time (or lack thereof) being the enemy that kept me from completing and launching the danged thing.
In the last few months, however, I have marshaled my will and my time and pushed like mad to get the site ready for the new year.
aaaand I failed.
Well, sort of – the bits I couldn't get done (you know, small things like my writing!) were, uh, hacked out for now. Rest assured that they will eventually be incorporated, along with older projects lost in time and, as such, yet to be seen on my site and – fingers crossed! – all new material.
Point of fact, this site redo is little more than a motivator for myself; a platform from which I hope my creativity to leap with sights on taking flight or, at least, landing semi-comfortably on its own, two big, flappy feet … as opposed to its ass.
So what's new on the site?
The look, mainly: from the slideshow on the home page to the semi transparent dropdown nav, to the js handling the image displays, it is a sharper, cleaner, more cpu heavy presentation of the same old shit.
Oh, there is quite a bit of "new" content sprinkled in here and there, new meaning old stuff I've not posted to the web before, things like more of my physical art but mostly I have only dragged the site out of the dark ages and into … the dim but not quite so bleakly opaque ages.
Users of computers with slow processors, small monitors, and crappy browsers (I didn't say IE, I swear to you) will not enjoy the full experience of the site and to them I say: "I hope to eventually get a book or two published. You'll be able to open that okay, won't you?"
Of particular concern is the monster and robot gallery – but I'll let you discover things on your own …