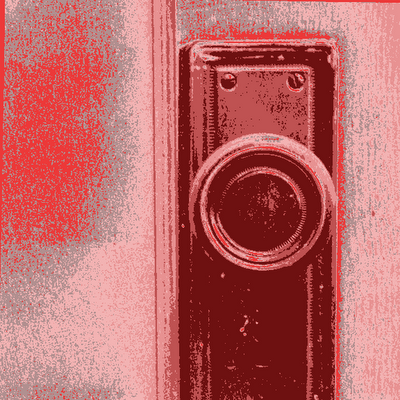 I love the potential rhythm of language; tongue twisters, alliteration, rhyme – I mess around with this stuff all the time.
When a friend asked me to hear the phrase "jiggle it a little, it'll open," saying that it was worthy of the "Mairzy Dotes" treatment, well, I couldn't resist.
Unfortunately, I'm not Drake, Hoffman, and Livingston.
What I came up with is one of those songs with an ever increasing tempo; with each repetition of the chorus, the tempo is amped up a little until it becomes impossible to say or play. Further, the song always slows down prior to the chorus with the "opine" line acting as the breath.
Yes, really stupid and annoying – right up my alley.
Now, with no further ado, I give you the Hammy Fergus and the Backyard Boys: Chet on washtub, Dill on jug, Taw on washboard, and the amazing Hammie Fergus on comb and vocals. Take it away, boys:
Jiggle It A Little
©2009 Corey A. Edwards
Going to Grandma's for the day
while my parents are away
Can't wait to get out there and play
but the car door handle makes delay
Momma in the front seat does opine:
Jiggle it a little, it'll open
Jiggle it a little, it'll open
Jiggle it a little, it'll open
Jiggle it a little, it'll open
Give that handle a sturdy shake
Jiggle it a little, it'll open
I want a cookie, maybe two
so I go on over to grab a few
but the drawer is stuck as if with glue
and I don't know just what to do
Grandma from the kitchen does opine:
Jiggle it a little, it'll open
Jiggle it a little, it'll open
Jiggle it a little, it'll open
Jiggle it a little, it'll open
Give that handle a sturdy shake
Jiggle it a little, it'll open
Turn the couch into a slide
'til Grandpa yells: "Go play outside!
Get out this house for I tan yer hide!"
but the big glass porch door it won't slide
Grandpa pounds the table and opines:
Jiggle it a little, it'll open
Jiggle it a little, it'll open
Jiggle it a little, it'll open
Jiggle it a little, it'll open
Give that handle a sturdy shake
Jiggle it a little, it'll open
Neighbor girl, Bessie-May
who I see every time I stay
says: "Here's a fun new game to play!"
but my dang zipper's in the way
It takes me but a moment to opine:
Jiggle it a little, it'll open
Jiggle it a little, it'll open
Jiggle it a little, it'll open
Jiggle it a little, it'll open
Give that handle a sturdy shake
Jiggle it a little, it'll open
(repeat ad nauseum until the band can't take it anymore)