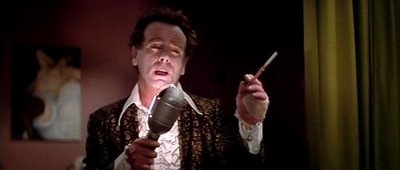 It's amazing some of the things you learn while in a food-service position.
Unfortunately, such things rarely incite the appetite.
For example, at my present job we make what I was raised calling "Monster Cookies"; cookies with M&M's on them – only we don't call them "Monster Cookies" but "Clown Cookies." And they're sugar cookies, not the basic chocolate chip cookie batter which was used in the cookies I'm used to. We don't use M&M's on them, either. We use what are called "CopyCats" by the staff but which are really known as Rainbow Chips: M&M clones.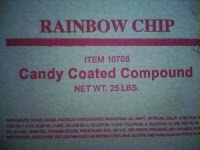 Rainbow Chips are to M&M's as canned dog food is to meat.
As if to reflect this, the side of a shipping container of Rainbow Chips proudly proclaims the contents as "candy coated compound." (Homer voice:) Mmmmmmmmmm: compound.
Now, I've eaten some of these; the term is grazing and is strictly verboten by company rules but, let's face it, if you're at work and feeling peckish – or even just bored – and you're surrounded by edible looking stuff, every once in a while some small amount of it is going to find its way to your face.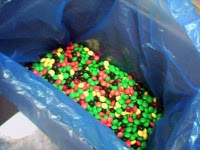 At the time that I put one into my mouth, my brain was saying "M&M" and, while my tongue wasn't as fooled, it didn't balk, either. The flavor and texture isn't so much off as muted – not at all unlike what I suspect Soylent Green might taste like: pseudo food. Once cooked, however, they go from "not quite right" to "what the hell is this?"
Due to the nature of the way we add them to the cookies – mashing the cookies face down into a container of the "candies" prior to baking – many of the "candies" fall off during baking. I once picked a baked one up off the cookie sheet and popped it in my mouth. The texture was like compressed gypsum (think sheet rock), the flavor: burnt sugar and wax.
Even this experience, however, didn't quite keep me from indulging in the occasional nibble – I mean, what the hell, they're gonna be thrown out, anyway, right? – but seeing "candy coated compound" on the side of the box? The final straw.
Of course, "compound" means nothing more than a mix of things to make a whole – thus milk chocolate is a compound as is grouting putty – but, when eating something so named, I'd rather hope it tastes more like the former than the latter, and so boldly using the euphemism "compound" to describe a foodstuff is not exactly confidence building.
You say "compound" when you know you can't say chocolate, or marzipan, or whatever. You say "compound" when you don't want anyone knowing what it is you're proposing they shove into their eating holes. You say "compound" because your lawyers suggested it as the least problematic – and if you have to bring lawyers into your kitchen, I aint eatin' what you're servin'.
(and speaking of lawyers, you'll notice I've yet to publicly state where I work … )