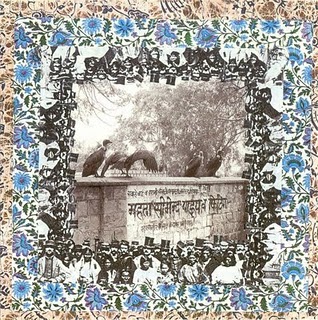 I first stumbled across The Monks of Doom in the late 90's while on an Edward Gorey tear via eBay.
The Monks of Doom were one of the few groups that had put Gorey's mad genius to music at the time. When I realized that the same group had also covered Syd Barrett and Frank Zappa – on the same disc! – I just about swallowed my gum: here was a group of musicians speaking to people like … me! Wow!
So I picked up that album ("The Insect God") and, having heard it and deciding they were worthy of further interest, I began to follow their short and already cold, yet interesting trail.
Continually referred to as "the rhythm section of Camper Van Beethoven," The Monks of Doom blazed a quiet trail replete with excellent rock tunes, lyrics of often offbeat subject matter (Hakim Bey, anyone?), and a not so surprisingly limited fanbase.
Despite the accessibility of their compositions and the excellent guitarwork (or perhaps because of it) The Monks of Doom remain obscure and are doomed (ironically) to fade from pop memory – or, let's face it: they already have.
The one person I ever attempted to play them to, replied, despite my obvious enthusiasm: "Yeah, well – they're not very good, are they?"
And maybe they aren't.
Often, especially on the first couple of albums, there's a distinct, maybe even intentional, sense of artistic disdain discernible in the delivery of the vocals – almost as if the singer knew he had no real audience to worry about – but the music is definitely there.
As strong as the lyrics can be, sometimes I think the non-vocal tracks are why I was sucked in as far as I was by these guys (wait, of course they are). There are instrumentals throughout each of their albums (culminating, for me, in the excellent "Dust" on "Forgery") that indicate an interest in music that goes beyond the simple pop form.
(points to anyone who "gets" the album title below without having to look it up)
Taste of Tendon
The Monks of Doom – The Cosmodemonic Telegraph Company
I was cross-eyed, stoned and painless
My pulse was up my eyes were red
My visions, situations, feelings
Hung on my lips and burned me up
And 18 hours spent asleep
Could not help me from thinking that
I had somehow managed to fool myself
I had missed the point while puttin' 'em back
I can't help from thinking
As my heart keeps beating
Of what I'd love to do
To strip the flesh that hides these bones
Bare my soul without a sound
Burn my brain, lay waste to fear
Though I won't live that many years
And I can't shed that many tears
Claustrophobic, paranoid
Laughing at my routine cares
The charade of my brilliant life
Had drawn a crowd these last few years
As I entertain my audience,
The stage was torn by all I knew
Who took me to the moon above
Wrapped my soul in linen cloth
I can't help from thinking
As my heart keeps beating
If I was Jesus Christ
And all the things I'd love to know
Why I feel the way I do,
And what it means to be alive
And make yourself a sacrifice
To never have to live a lie
You take yourself so seriously
You're dressed in black but your soul is green
You've got an understanding of the world
That's only based on what you've seen
And if you'd just admit to yourself
That it's not such an awful place
The grim facade that hides your mind
May yet reveal a smiling face
I can't help from thinking
As my heart keeps beating
Of what I'd love to do
Locked away just me and you
If you can only see me through
And see what we could make it to
Forget the things that need no proof
And see the world with eyes of fools
© Immerglück, Lisher, Pedersen