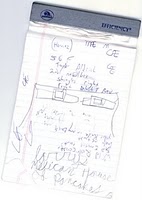 Didn't know shit at 16
Knew even less at 20
By the time I die
I'll know nothing at all
Brother, knowing that
seems plenty
—
Wish I had Tourette's
so I could say
what I'm not thinking
bitch
—
I was raised in Colorado –
Northern Colorado – very provincial,
conservative … backwards.
I disliked school on principle
but PE was the worst.
Always the same thing – football,
baseball, basketball, volleyball,
you know the drill. Traditional, boring.
Soccer was a rarity, rugby
unheard of. So I was thrilled
when, one year, they offered
fencing. I immediately signed
up but began to have
misgivings when I was issued my
post-hole digger.
—
I want to plunge a
knife in my throat
and declare a
national holiday
—
Remember:
nothing is impossible
and there is always lying.
You'd be amazed at what
some people are willing to believe
—
One day
folding into another
my face
folding into itself
waiting
for nothing
and receiving
nothing
for waiting
Outside
the rain
makes everything
wet
again
I am not surprised.
—
The man sits, waiting
in the car, his wife inside
He will wait forever
—
(in my daughter's large, looping hand)
Nipples hairpiece ice-cream fork,
don't you be a little dork
eat your pickles with your pork
Nipples hairpiece ice-cream fork