(this post is part of an aborted 1 year experiment in material abstinence I called The Necessary Year)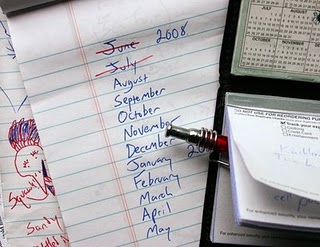 Whew. What a month.
It started out normally enough but, by the evening of the third, there was a fundamental shift: for all intents and purposes, I was rendered homeless by divorce.
Thankfully, I had family nearby and, for around three weeks, I stayed at my father's house as I hunted for new digs and conserved money.
Once I found a place (a decent, little, two-bedroom duplex) the money I'd been conserving vaporized.
It wasn't the damage deposit and first month's rent that ate my reserves, nor starting up internet and electric service, nor regular bills such as car insurance, cell-phone service, credit card payments, and groceries, nor the sheer number of things I suddenly have to replace but the combined forces of all three.
Of all of these factors, the most financially insidious are the little things I'd come to take for granted that are simply no longer there. Some of them I've only gotten used to having around within the last decade or so but the vast majority I have never been without. Every time I turn around in my new flat I'm discovering something else I no longer have at my disposal: silverware, bath towels, a couch. Just last night I sat down to a dinner of Chinese food only to realize I didn't have a bottle of soy sauce. The horror …
Luckily, my parents have just this month sold their home to become RV'ers and have told me to hold off on buying things as they may be able to provide much of what I'll need. They're actually thanking me for being in need as being able to give me their cast-offs works in everyone's favor. Unfortunately, the completion of their sale is some way off and my need is now so, until such a time as they can actually begin dispersing said stuff, I'm in a bit of a pickle.
Consequently, my favorite new store is Goodwill.
In the past week I've picked up a number of small household items including but not limited to: four place settings, including silverware, bowls, plates, and saucers; three coffee cups (in case anyone comes over and demands a cuppa); a slotted spoon; two bath towels; a hand towel; an ice tray; a soap dish; a pepper shaker (I'm still keeping an eye out for its mate); and an electric toaster (that is either repairable ro returnable – we'll see). All for around $26. Not bad.
I still plan to hit the local branches of The Children's Hospital Thrift Shop, Habitat For Humanity, plus a couple of other good, local resources for cast-offs such as Waste Not, Want Not but have already managed to collect the bulk of what I need to live for the moment – besides, I'm now officially broke.
The month of July is so skewed with all this irregular spending that, while in the interest of continued transparency I will go ahead include the numbers, I will ever view them as irrelevant for the purposes of TNY.
There was such a flurry of spending in July (and, to be honest, such a bunch of mind-boggling stress) that I didn't keep track of my expenses as well as i would have liked to. As a matter of fact, the last two weeks of the month or so I got so far behind in posting my receipts that I just gave up. Thus, the numbers and categories I am reporting this month are taken directly from the monthly spending statement put together by my bank. It's a little creepy that they know so much about what kinds of things I buy but, luckily, I'm a dullard so there's little to be embarrassed about.
—————–
July-2008 Expense Report
—————–
"Bills": $2400.77
Daughter: $193.55
Gasoline: $353.16
Godrotting Parking Violation: $15
Groceries: $435.49
Medicine: $5.83
Moving: $220.55
Ralph (my cat):$51.01
Social Obligation: $64.75
Tools: $8.99
Toy Karma: $4.80
"Unnecessaries" – $17.25
—————–
Total: $3770.79
Ouchie.