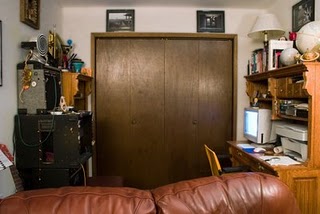 There is an ugly, seemingly pointless closet (except for the fact that any storage is good storage in a place this small when you own as much silly garbage as I do) that sat gaping and stupid, like a mouth-breather's maw, at the back of my new flat's living room.
Now I could just pinch whatever sub-architect decided this was a good place for a closet but there you have it: a monstrous, ugly coat closet right there at the back of the main room where you're most likely to do your entertaining. How lovely.
So what to do? I don't own that many coats. Okay, I could fill it with mannequins but that's beside the point.
Read the rest of this page »