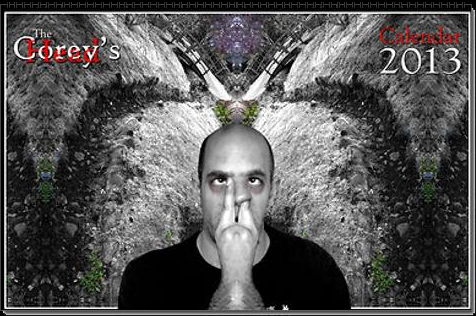 Awreety, awright – it's time once again for me to pimp my wares (as opposed to "where's my pimp?") and offer you with absolutely no shame dsplayed, my 7th "annual" photography calendar.
Last year I indicated that the calendar offered would be my last – and it so it was (maybe) … of toys.
While this year's calendar is still chock full of inexcusable photoshoppery, gone are any vestige of the obscure Japanese toys that so littered the landscape in all my previous offerings. No, now it's just the bizarre, occasionally nauseating, and always ridiculous visions that I knock out with regular abandon. You saw them on my blog, why not hang them on the wall throughout the year and scare others?
Think of it as your monthly dose of ipecac.
14 whole, 17″x11″, full-color pages to scribble those important dates upon. Golly, how novel (no, the novel is on the table under the calendar, right next to your coffee).
G'wan, do it! http://www.cafepress.com/coreyshead.737649826