(this post is part of an aborted 1 year experiment in material abstinence I called The Necessary Year)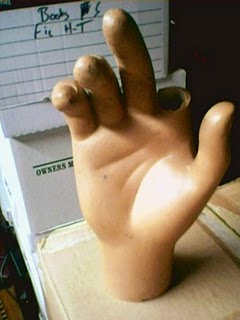 Good grief – how the worm has turned.
I've gone from living in a too big house and trying to learn to save my money, to living, thanks to the kindness of family, in a small, extra bedroom, sans 98% of my belongings, while desperately looking to blow lots of money on new digs and all that will be required to make said new digs habitable.
I am learning that finding a two-bedroom house to rent in this area, at a rate I can afford, is not an easy thing. They're all either too expensive or too run down (or already rented).
Access to my daughter, pets, personal belongings, and free-time on the internet is limited.
For all intents and purposes, the "I" which I have been for over a decade has ceased to be.
The good thing is that this is just a temporary precursor to the kind of life I have been dreaming of living for over ten years.
The bad thing is that this temporary precursor seems interminable and has me feeling (and arguably looking) like a combination loser/criminal – though I am neither.
I am saving a lot of money but in a way that makes me beholden to the kindness of others. I appreciate this kindness but find myself squirming in shame and discomfort. It's not lost sense of pride so much as one of independence (but I'm a man so, yeah, pride is in there, too).
In the eight days since this situation manifested itself (let me mention that I intentionally instigated it, though I cannot say I fully thought out the potential backlash) I have been sorely tempted on numerous occasions to treat myself in some way – a movie, an ice-cream, a cd, a drink or three at a bar, a nice meal at a restaurant, upgrade my old cell-phone; what the hey, I'm saving the money and I'm down, right? – but have thus far managed to resist. The closest instance being when I drove up to the local convenience store a couple of hot afternoons ago, in a pity-party mood, with the intention of getting an ice-cream sandwich.
I never got out or even stopped my vehicle.
I nosed into a parking space, thought of you, me, TNY, and threw it into reverse.
On the other hand, via social obligations, I've had plenty of beer. Probably an average of one a day since the 3rd of this month, and I've bought some of it as a thank you to those who have been so kind as to offer me said, to put me up or afford me the kindness of their ear.
One does not properly appreciate friends, family, even the kindness of strangers, until one needs to lean fully upon them.
Uncomfortable as I am to find myself in need of such support, I am grateful to have reached out in the dark and found not just one but numerous hands there, willing to take mine. I only hope I am able to successfully express how grateful I am for their support, how deeply I hope I can someday pay them back.