(this post is part of an aborted 1 year experiment in material abstinence I called The Necessary Year)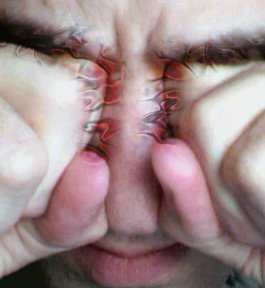 Do you ever rub your eyes?
You know, balling up your hands and working those knuckles gently but firmly into the muscles of your eye sockets until the skin is red and tender? I also use the sides and pads of my thumbs, even the heel of my hand to work away a fatigue I often don't even know exists until I begin massaging it away.
I remember my mom and various teachers over the years warning me against such a practice but I never paid any mind. It felt too darned good and their warnings that it could cause some kind of permanent damage seemed belied by the fact that most of the kids I knew did rub their eyes – adults, too – and yet I'd never met one person who had gone blind or received any other serious injury from doing so. Obviously it was either an old wives tale or the chance of real damage was so slim as to be virtually unheard of in the hallowed annals of schoolyard hubbub.
Point of fact, I've often enjoyed doing things that are typically proscribed -or, as I all too often discover, should be.
As another example, despite the fact that I am allergic to most grasses, I enjoy stripping the seedheads from them by way of gently grasping the stem just below the head and then pulling it through my constricted fingers, popping the frilly ends from the stalk: "prrrrrrrrrrrit!" I don't have anything against grass, mind you, I've just always liked this feeling of the tiny, oblong seedheads snapping free to rest in my palm. I started doing this as a kid and still do it when the opportunity affords itself. I suppose you could call me a tactile person.
On weekday afternoons, as I make my daily, afternoon-coffee replacement lunch-trek to the post office, there are a lot of these grasses gone to seed along the sidewalk, as well as bright orange california poppies, beautifully atypical red-hot pokers, and other flora.
With my left hand out going up the hill, and my right going back down, I grasp at the grass that falls within my reach and strip the heads, receiving small handfuls of pollen-laden seeds that I then send high into the air (away from my sensitive sinuses, of course).
One day, a few weeks back, after my lunch-time walk, I am sitting at my desk when I begin to get sleepy. Squinting from the sun coming in through my office window, I lean back in my chair to stretch, yawn, and rub my eyes; a deep, long rub. Oh, how good it feels! Then – oops! – I must've dislodged an eyelash because I can feel a lumpy irritation under my right eyelid.
This has happened before and is likely what all those do-gooders had been warning we eye-rubbers about all along: if you have something in your eye and rub it, you could very well make the situation worse.
Well, I'm an ex-boyscout so I know all about first-aid, see. Feeling that eyelash (or whatever) I rub a little more, knowing from experience that, if done carefully, this will often cause the object to work out from under the eyelid.
When that approach fails, I try another old trick: grasping the top lid by the eyelashes, I pull it out and down over the lashes of the bottom, then release, allowing the latter to sweep out whatever is causing the irritation in the depths of the former.
No dice. As a matter of fact, the irritation gets worse. My eye is watering like crazy and it feels like there is a tree branch wedged under the lid.
I rub, prod, blink and pull, staggering from my seat and cursing – this is ridiculous! One minute I'm fine and the next it feels like I have a blackberry bramble under my eyelid? WTF?
I make it to the bathroom and look at my eye, now pink with irritation. I cannot see anything but I can damn sure still feel it – a maddening situation, I am sure you will agree. Even my left eye is starting to look a little pink. Sympathy?
I go back to my office and sit at my desk, squinting helplessly. I can't even keep my eye open long enough to work at first, then it calms down and I am able to get some things done but it is clear there is still something in my eye. I resolve to ignore it, to allow it to work itself out. Messing with it seems unlikely to do anything more than further exacerbate the situation.
An hour or so later, immersed in my work, the irritation mostly forgotten, a twitch sends my hand to my eye involuntarily. In seconds I realize my mistake as now both eyes are useless again – tearing, blurred, and prickly.
Frustrated and grumbling, I make another run to the bathroom mirror and am shocked by what I find.
My eye sockets are an angry pink all the way down into my cheeks, as if I have spent the last few hours sobbing inconsolably, and the sclera – the white part of the eye – has changed in a way I didn't know possible; where red veins are not standing out like some crazy road map to hell, the usually bright, white tissue has gone a yellowish grey and is swollen to the point of being baggy! It puffs out around my irises like fat pillows supporting heavy discus and, when I turn my head from right to left, rolling my eyes in their sockets, the sclera bunches up in folds where it meets the lid until – slup! – it is finally forced under. No wonder blinking is such an uncomfortable chore.
Never having had pink-eye before, I wonder if this isn't it and then decide that, as there is no real pain or hint of goopy discharge, it likely isn't. The clock on the wall tells me I've an hour and a half 'til quitting time. I don my sunglasses, which help somehow, and endeavor to finish out the day.
After work, I pick up an allergy related eye-drop of some sort at the supermarket but to no avail. When I read on the side that it is homeopathic I understand why. I paid ten bucks for a tiny bottle of snake oil when what I wanted was medicine. Homeopathic my ass.
Once home I pop two benedryl, which bring only slight relief and, as it doesn't knock the legs out from under me like usual, I become suspicious. Sure enough, it expired 6 months prior. Taking one more as an "it can't hurt" gesture, I hit the sack, gently tucking my baggy sclera under their respective lids like two little shar pei puppies.
The next day the swelling has gone down some but my eyes are still an alarming, unnatural color and are viscous with tears. I stop by the pharmacist on the way to work and pick up an absolutely teensy bottle of eye drops (real medicine this time) for a whopping $22 and change. One treatment brings almost instant relief but I remain baffled by the cause.
Years of allergies have afflicted me in a number of different ways – wheezing, coughing, sniffing, headaches, rashes, watery eyes, complaining like a whiny, little bastard, all the regular symptoms – but never anything like this. What could it be?
Then I remember the grass pulling and the eye-rubbing. I had done a rather large number of grass-stalks that day, actually making a little game of seeing how many heads I could pluck off. Less than an hour later I had buried my unwashed, pollen and grass-juice tainted digits into my eyes – not just once but over and over again as the irritation increased.
So mom was right, after all, and all it cost me to discover this was around $35 and close to 24 hours of sloppy, corpse-like eyeball irritation.
Consequently, I no longer pluck grasses, despite a strong, OCD-like urge to do so, and, when I rub my eyes now, there is a moment's hesitation just prior: what have I been touching today? But then I go ahead. Perhaps a little more tentatively and gently than before but … aaaaaahhhhhhh.
Finally, when I think of my two bottles of exorbitantly priced and virtually unused eye drops, I cannot help but wonder: from an economic view point, maybe avoiding the chance for further irritation is actually a foolish waste of money … ?