(this post is part of an aborted 1 year experiment in material abstinence I called The Necessary Year)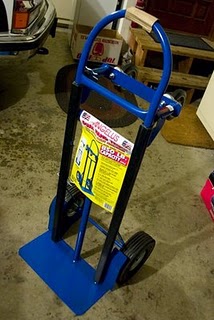 I up and went and done it. Yessir. I purchased myself a dolly (or hand truck -or even hand cart, if you wont have any truck with the former) for my impending move.
Said truck has an adjustable handle, pneumatic tires (which is good 'cause the oldmatic ones tend to blow out at high speeds in the curves), an 850 lb capacity, and it can be converted into a flat cart.
First I will tell you how long I have wanted one of these things, then I will attempt to justify buying one, now.
Read the rest of this page »