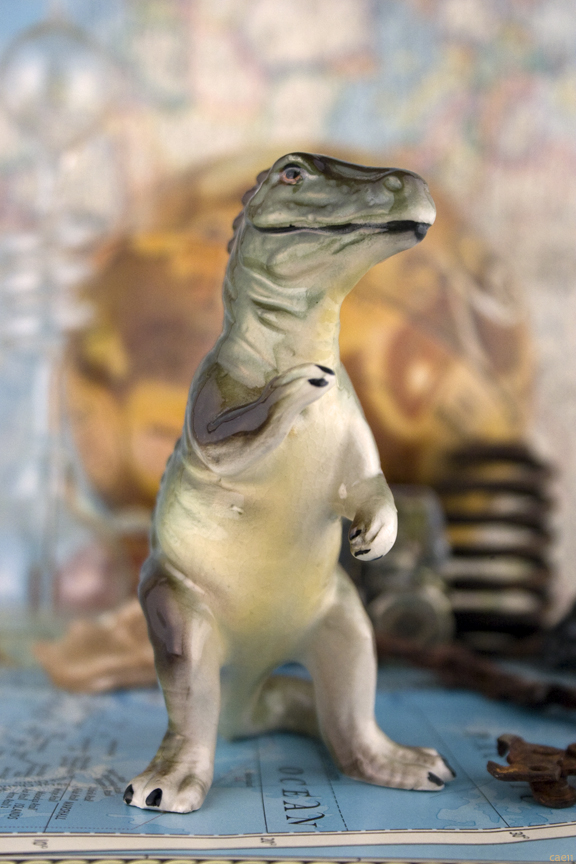 I'm not really "into" dinosaurs, per se. I mean, yeah, my collection of Japanese toys does feature some creatures that qualify as dinosaur-like but actual, regulation dinosaurs? Not so much, thanks.
That being said, when I spotted this little fellah in the "collectibles" case of the local Goodwill, I had to take a closer look.
I've seen all kinds of things rendered in glossy ceramic before: horses, telephones, cars, vegetables even a pig dressed as a policeman but never a realistic dinosaur (whatever that means).
To me, the two fascinations – glossy ceramic figurines and realistically sculpted and decorated dinosaurs – are darn-near mutually exclusive; who thinks little boys should be given fragile ceramic playthings to bury in the sandbox? What self-respecting collector of cutesy knick-knacks wants a prehistoric predator posed amongst their collection of grinning, anthropomorphic fruit or fancifully bedecked bunnies in mid-flounce?
I just don't get it … so I got it.
A scosche over 4″ in height and sporting a torn and yellowing "Japan" sticker on the underside of its tail ("It's not Japanese," my girlfriend opined. "That doesn't say 'Japan', it says 'Japa'. It's a knock-off. You were took.")
Upon dragging it home, I did a cursory google and eBay search and turned up nothing like it, which surprised me. Anyone else seen anything like this before?